Here is the latest update to our list of recommended Intel motherboards in our series of motherboards buyers guides. All numbers in the text are updated to reflect pricing at the time of writing.
Best Intel Motherboards: July 2022
The summer is here and a number of retailers are getting prepared for a wave of new processor releases set for the end of the year. This means there are plenty of motherboards from chipsets such as Intel's Z690, B660, and H660 that are either currently on offer, or at their lowest price for months. Users looking to build a new system today will find plenty of options from Intel's 12th Gen Core series, including the very affordable but competitive Core i3-12100 ($130), with more performance-focused models such as the mid-range Core i5 and i7 processors with up to twelve cores (8P/4E). At the top of the stack is the flagship Core i9-12900K and Core i9-12900KS processors with sixteen cores for the most demanding workflows, applications, and games.
We're taking a look at what's currently available on the market in terms of motherboards for Intel's 12th Gen Core series processors ranging from 'money no object', all the way down to what's hot in terms of value in our latest motherboard buyer's guide for July 2022.
Here are our choices in the motherboard market for Intel. For AMD recommendations, head on over to our AMD guide. This is updated monthly just like our Intel motherboard buyers guide.
Intel Motherboards Recommendations
July 2022
Segment
Motherboard
Memory Type
Amazon
Newegg
MSRP
Price vs Features
MSI Pro Z690-A WIFI
DDR5
$215
$215
$250
Value
ASRock B660 Pro RS
DDR4
$140
$120
$140
Mini-ITX
ASUS ROG Strix B660-I Gaming WIFI
DDR5
$195
$195
$235
Money No Object
GIGABYTE Z690 Aorus Xtreme
DDR5
$900
$900
$900
Our recommendations for motherboards are based entirely on personal and professional opinions. There are notably many different motherboards across the Intel chipsets including the latest Z690, B660, H660, and H610 chipsets for 12th generation processors, with pre-existing 11/10th gen options including Z590, B560, Z490, and the B460 chipsets. We've considered and factored all of these into our decision, and ultimately, some of our choices and options here are also limited by what stock is available.
Over the next couple of months, we'll be reviewing and analyzing what the Z690 motherboards have to offer, including both DDR5 and DDR4 variations. As we get to grips with Alder Lake and Z690, we'll be able to make some more informed choices in comparison to what we've selected for now. Rest assured, all of the picks selected are my personal and professional choices, options I would be willing to spend my hard-earned money on.
Best Intel Motherboard For Gaming/Performance
While performance is subjective to the overall hardware configuration of a system, the motherboard is undoubtedly the gateway to unlocking all of the new features. There are many Z690 models to consider, but for November, one board that piques my interest is from MSI, the Pro Z690-A WIFI (DDR5) to be exact. Now while the aesthetic might not be the typical quintessential gaming-themed motherboard, it's got everything needed to get gamers off the ground with a decent feature set, and it has an equally attractive price point.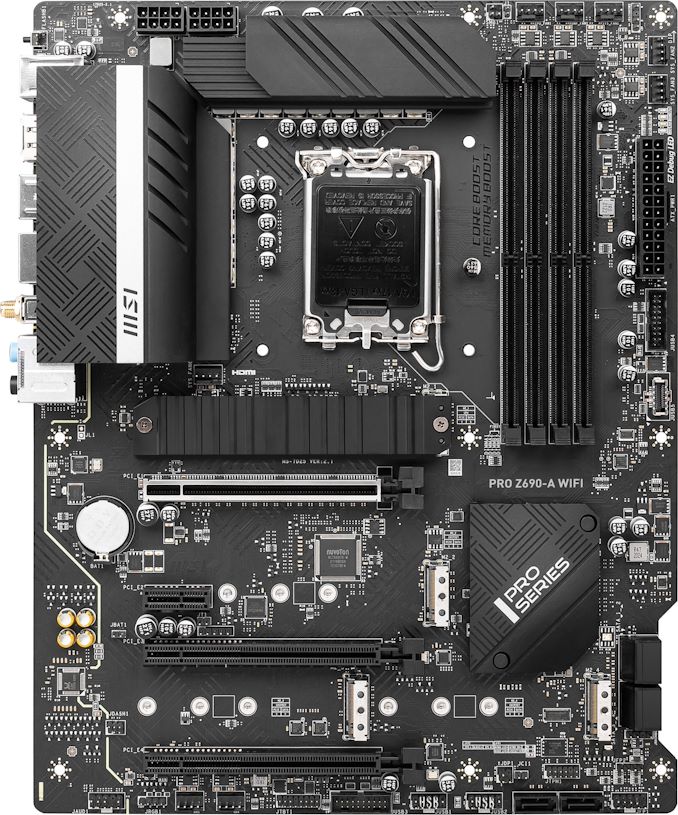 Some of the MSI Pro Z690-A WIFI's most notable features include Intel's latest Wi-Fi 6E CNVi with an Intel I225-V 2.5 GbE controller. Coupled with support for up to three PCIe 4.0 x4 M.2, one PCIe 3.0 x4 M.2, and six SATA ports, it has everything a gamer could need ranging from super-fast NVMe or even conventional hard drives for game storage. One of the biggest advancements of opting for Alder Lake is that it has plenty of varied PCIe support, including one full-length PCIe 5.0 x16 slot, two full-length PCIe 3.0 slots operating at x4/x1, with an additional and smaller PCIe 3.0 x1 slot. Perhaps the most important addition to Z690 is support for the latest DDR5 memory, with the MSI Pro Z690-A WIFI supporting DDR5-6400 out of the box, with a combined capacity of up to 128 GB across four memory slots.
The MSI Pro Z690-A WIFI can be currently purchased for $215 at both Newegg and Amazon. A Z690 model with DDR5 support, PCIe 5.0 support, three M.2 slots, and Wi-Fi 6E/2.5 GbE for $215, is a fantastic price. Most of the Z690 boards are so over-engineered that a model such as this will still give you all the performance benefits of the 12th generation Intel chips, but with more budget to spend on DDR5 memory, storage, and perhaps if you're lucky a graphics card; stock permitting of course.
Gamers on a budget will appreciate the feature set, while all the performance benefits of Alder Lake can be unleashed with the MSI Pro Z690-A WIFI, and this makes it our pick for gamers. MSI also has a non-Wi-Fi enabled version of this model that is listed on Newegg and Amazon for $195, if gaming over wireless just isn't suitable for you, but at $215, we would wholly recommend getting the Wi-Fi 6E version.
Best Intel Motherboard: The Value Option
The term value is a subjective one, and can typically be seen in many different ways. In my view when it comes to selecting a motherboard, it comes down to one primary objective, the cost versus the features offered. It's no secret that motherboards have risen substantially in price over the last couple of years, with top models back in the days of Intel's LGA1155 for Sandy Bridge costing $200, while today's premium tier Z690 LGA1700 models typically start there. That's why we're pivoting to one of Intel's more budget-friendly chipsets, B660, and the ASRock B660 Pro RS (DDR4) is our option to get some value out of the current Intel 12th generation processors.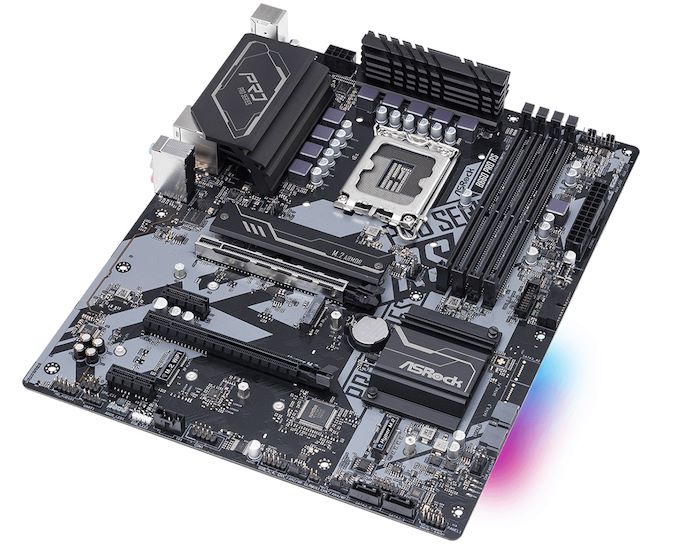 Some of the main features of the ASRock B660 Pro RS include support for the more affordable DDR4 memory, with speeds of up to DDR4-4800, as well as support for all of Intel's Alder Lake-S desktop processors such as the Core i5-12600K and Core i3-12300. Despite Intel's B660 chipset not coming with support for overclocking, that's not to its detriment as it focuses more on offering value with a budget Intel I219-V Gigabit Ethernet controller, with an equally cost-effective Realtek ALC897 HD audio codec.
Other features include one full-length PCIe 4.0 x16 slot, one full-length PCIe 4.0 x4 slot, and two PCIe 3.0 x1 slots. For storage, ASRock includes two PCIe 4.0 x4 M.2 slots, with one PCIe 3.0 x2/SATA M.2 slot, as well as four SATA ports. For a budget model, there are four USB 3.2 G1 Type-A and two USB 2.0 ports on the rear panel, but ASRock does include one USB 3.2 G1 Type-C front panel header (one port), two USB 3.2 G1 Type-A headers (four ports), and one USB 2.0 header (two ports) for users requiring more connectivity.
The ASRock B660 Pro RS is currently available to buy at Newegg for $120, which is a reasonable price for everything that it offers. Amazon also now stocks this model, but it's more expensive with a price of $135, so we recommend users buy this at Newegg. For users looking for a similar motherboard from the Z690 chipset, there is the ASRock Z690 Phantom Gaming 4 (DDR4) which costs $180 at Newegg and retains much of the same feature set, although the Z690 model does benefit from PCIe 5.0. In the budget space, DDR5 and PCIe 5.0 aren't typically a concern or viable for users to benefit from, and the ASRock B660 Pro RS is what it is, a good value and sensible option for users on a budget.
Best Intel Motherboard: The Best Mini-ITX Motherboard
At the launch of every chipset, whether it's Intel or AMD, there are various ATX-sized and micro-ATX sized, but there isn't much choice in relation to small form factor models such as mini-ITX. Despite the more premium Z690 models in the mini-ITX form factor coming with incredibly high price tags such as the MSI MEG Z690I Unify ($400) and the ASUS ROG Strix Z690-I Gaming WIFI ($440), we've opted for a more affordable solution for small form factor users with a B660 option, the ASUS ROG Strix B660-I Gaming Wi-Fi.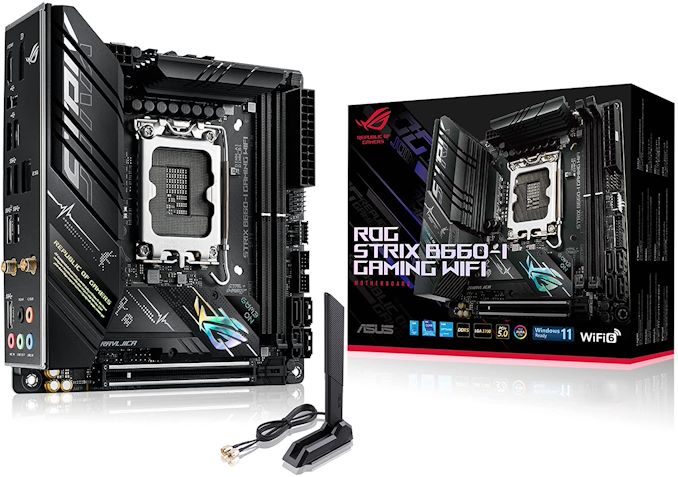 So why have I opted for the B660 version over the Z690 version? Well, the overall differences between the two aren't as huge as the extra $220 cost might suggest. Firstly, the ASUS ROG Strix B660-I Gaming WIFI still benefits from one full-length PCIe 5.0 x16 slot, with support for two PCIe 4.0 x4 NVMe M.2 slots and four SATA ports. The main difference comes in networking, with the B660 model opting for an Intel Wi-Fi 6 and Intel I225-V 2.5 GbE controller, while the Z690 model uses a better spec Intel Wi-Fi 6E CNVi. 
Looking at the finer specifications, the ASUS ROG Strix B660-I Gaming WIFI is using a premium SupremeFX S1220A HD audio codec that powers five 3.5 mm audio jacks and single S/PDIF optical output, while rear panel connectivity for the price and size is excellent. This includes one USB 3.2 G2x2 Type-C, one USB 3.2 G1 Type-C, three USB 3.2 G1 Type-A, and three USB 2.0 ports on the rear panel. The board also benefits from support for the latest DDR5 memory, with supported speeds of up to DDR5-6200, and a maximum capacity of up to 64 GB across two slots.
The ASUS ROG Strix B660-I Gaming WIFI (DDR5) is currently available to buy for $195 at Newegg, as well as over at Amazon. It's worth noting pricing has been consistent over the last couple of months, and it remains a popular mini-ITX motherboard for users looking to use Alder Lake in small form gaming systems. In comparison to its elder sibling, the ASUS ROG Strix Z690-I Gaming WIFI which costs $240, the B660 version costs half the price currently, and for the money, it makes much more sense, not just from a value perspective, but the overall differences between the two in terms of features isn't anywhere enough to justify the extra costs associated.
The only benefit the Z690 model offers is overclocking support, so if users think it's worth it, despite Intel's 12th generation offering impressive performance with its 'turbo' clock speeds, then have at it. Personally, the B660 model makes more sense as the extra $200 could be spent on additional areas such as storage, faster memory, and even on better graphics.
Best Intel Motherboard: Money Is No Object
When not having to worry about budget and opting for what is considered the best money can buy, there are plenty of solid contenders. We have seen some top-tier premium flagship models over the last couple of years on Z590, Z490, and even Z390, but the latest Z690 chipset has taken things to the next level. Our pick for November could be classed as 'Xtreme", with GIGABYTE's Z690 Aorus Xtreme taking our top spot this month.
The GIGABYTE Z690 Aorus Xtreme is everything a flagship could be and then some, with a premium aesthetic, decked out head to toe in armor and coverings, even down to the two-digit LED debugger receding into the armor in the top right-hand corner. Everything has been detailed to look as spectacular as the feature set it boasts. GIGABYTE even includes an OLED screen into the memory slot cover, with an advertised 23-phase (20+1+2) direct power delivery with the latest 105 A power stages.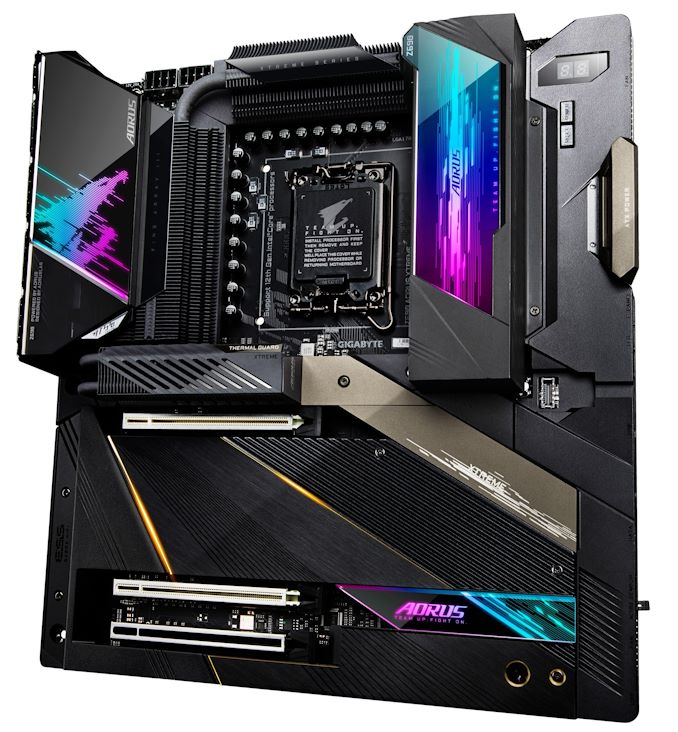 Looking at the primary feature set of the GIGABYTE Z690 Aorus Xtreme, it has three full-length PCIe slots, two with support for PCIe 5.0 operating at either x16 or x8/x8, with the third slot electronically locked do PCIe 3.0 x4. There's plenty of storage support with four PCIe 4.0 x4 M.2 slots, but just four SATA ports. It seems as though GIGABYTE has gone for a less is more approach, although none of the current Z690 flagship models feature more than six, even though the chipset actually supports up to eight. In terms of memory, the Xtreme supports the latest DDR5 memory, with speeds of up to DDR5-6400 out of the box, and a combined capacity of up to 128 GB across four slots. 
When it comes to networking, GIGABYTE has decked the Z690 Xtreme out with two Ethernet ports, one of which is fed by a Marvel AQtion AQC113C 10 GbE controller, with the other port running from an Intel I225-V 2.5 GbE controller. GIGABYTE is also making the most of the inclusion of native Wi-Fi 6E support through the chipset, with Intel's AX210 Wi-Fi 6E CNVi adding both wireless and BT 5.2 support.
Touching on connectivity, the Z690 Aorus Xtreme has dual Thunderbolt 4 Type-C ports on the rear panel, with an impressive ten USB 3.2 G2 Type-A ports on the rear panel; users needn't worry about running out of ports to plug USB devices into with this board. Onboard audio support is slightly different from a conventional model, with the Z690 Aorus Xtreme opting to use an ESS Sabe ES9280AC DAC chip, with two supplementary ES9080 chips acting as the main driving force behind the two 3.5 mm connectors.
The GIGABYTE Z690 Aorus Xtreme has an MSRP of $900, and as such is currently available to buy at both Amazon and Newegg for the same price. The term value isn't something you can ever associate with a flagship model, because you typically get the best of everything. This includes networking, storage, and features, and the Z690 Aorus Xtreme delivers on pretty much everything. Some users may argue that four SATA isn't acceptable for a board costing $900, but I believe it's a fair trade-off to make considering everything else is premium. 
Intel Alder Lake and Z690
For those looking for all the Z690 motherboards, we've compiled details on over 50 DDR5 supported models, and over 30 DDR4 supported models. All of our current and key Intel Alder Lake content can be found below: